Act Two of the Nemoniacal Steampunk Toy Theater
| | |
| --- | --- |
| | The top three inches is where the holes will be drilled, once I am sure how many rods I need to hold the lights and the sets. Each hole will be finished off by a one inch gromet, and the opening lined with foam, so that the metal cafe rods make no noise as they are moved. The screws holding the top curtain will be vertically aligned about an inch from the edge, and the screw eyes will be covered with mini gauges that are removeable. The front is to the right in this photograph. |
Act Two finds my idea of using foil as an outside skin unworkable. It was obvious that for the outside, the surface must be something that is easily repaired. I decided on a beautiful Metallic blue and gold with silver highlights and brass, and here is a picture of the first coats of paint and decorative elements. The gilding was done freehand from an ancient Greek mosaic. Nothing is aged yet but will be, and then given several layers of varnish to preserve. This is a model for an open source design I wish to present as a crowd sourced project. It will have a removeable top, and sides. My dream is to make this artform available to more children and classrooms. They can learn how to make beautiful things, write their own plays or make them up on the spot. Any images that speak to them can be copied and used either as sets or puppets.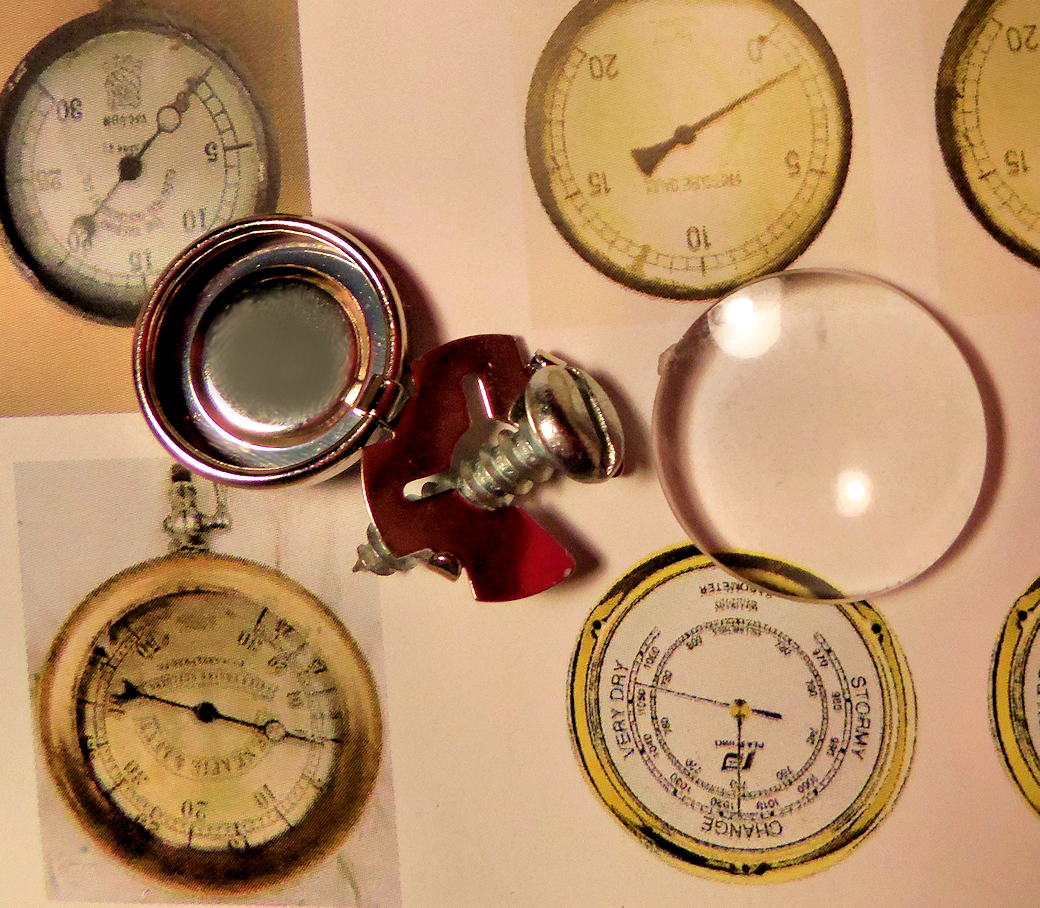 Can I say how many lovely uses I have found for the humble button cover? They can adorn a multitude of craft projects, and make killer Steampunk buttons on an ordinary shirt, but they can also disguise construction details like screw heads. While I wish I could afford the brass ones, I am literally on a tiny fixed income and must make my own labor create what I can't afford. This came about because I was pondering how to create the top permanent proscenium curtain, which must be removed to change sets and lights when plays change. It would mean four ugly screws showing on my beautiful side walls, or to sink the screws and make removeable knobs. Then I happened upon a bag of findings. Button covers! I shall transform the lowly button covers (four of them) into tiny nautical gauges! They will sit over the screw head and look beautiful!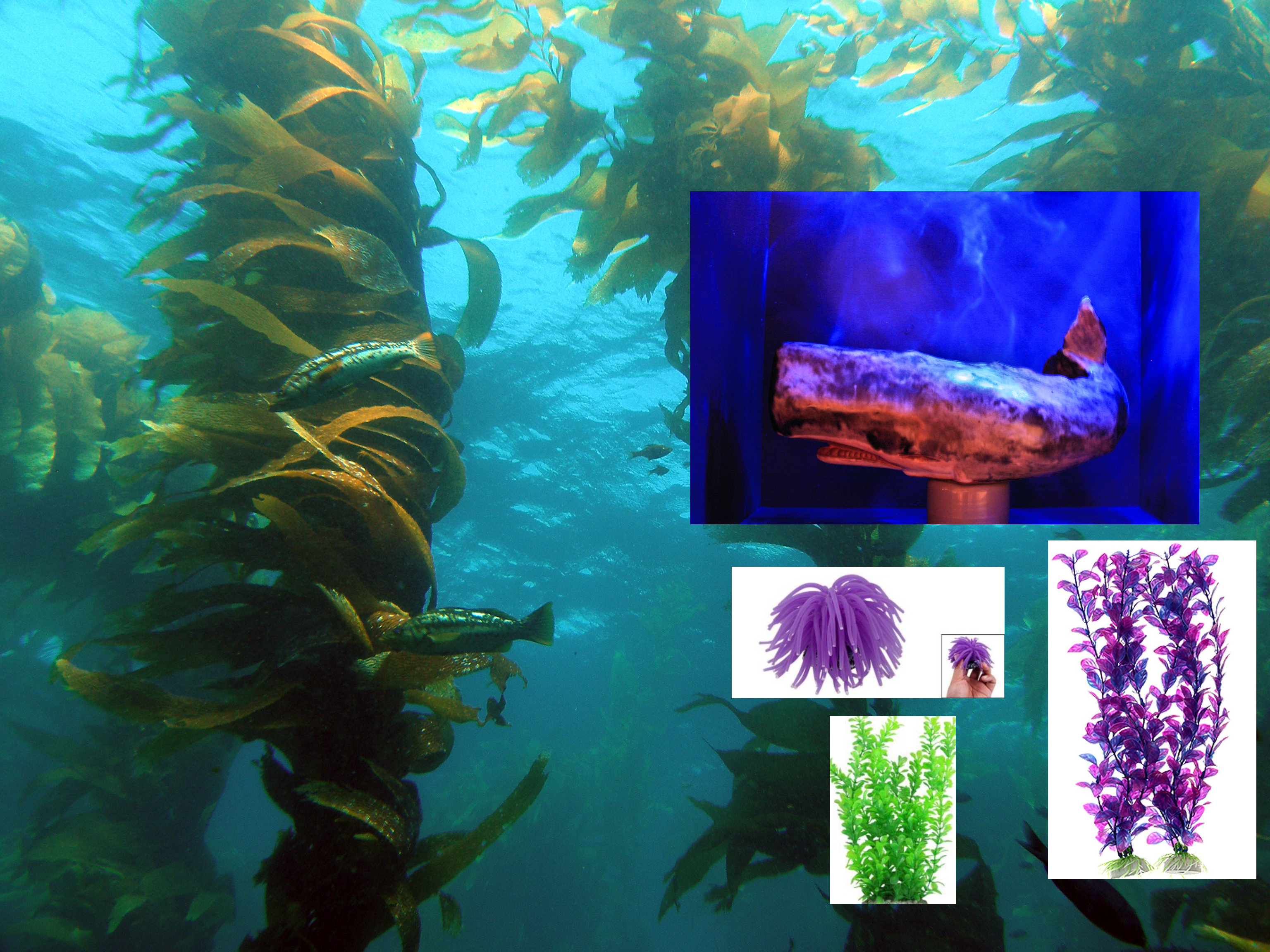 I have been working with a LED light designer on various colors and blinking times to create wavy reflections inside. The lights will be suspended on brass cafe curtain rods that will run across the "ceiling" and can be rocked and moved to enhance the wave effect. when the working set is complete, there will be a video to show how the lighting works. Many things in the underwater set are altered aquarium decor, mixed in with my polymer clay and other altered toy rod puppets of divers, etc. I mix two dimensional characters with 3D toys for a greater illusion of space and for kids to see how they can alter toys to be characters. The inspiration for this set is a Spanish Toy Theater which is shown in Act One here .
The theme is Captain Nemo in "Twenty Thousand Leagues Under the Sea" by Jules Verne, and the first sets and characters will be for that particular story, but the uses are many: the undersea set can be used for all sorts of sea stories about the Oceans and global warming, with characters like big fish, jelly fish and reef characters to tell a story. It can acommodate mer-people for stories about mermaids--or even Percy Jackson and his father Poseidon and Greek Mythology. I always like Neireids myself and imagine them moving about on Hippocampi, as they do on ancient Grecian urns.
This year, I plan to continue to teach and not sell. I had the time last year to get much more involved with the kids who came to my table (I had two tables so I could work on making things all day), and I learned a lot talking to my audience. Ended up making puppet kits for two enthusiastic kids with parents very into working with them, and got great ideas for making kits that are very affordable (perhaps next year). I always give away stickers and coloring pages for smaller children, and will have the same this year as well. All of the stickers are with non-toxic toner and paper. I will have my memory boxes (a new one this year) and the beginning drawings for a Greek Toy theater for my nephews who are big Percy Jackson fans.
Last year, I was in the basement--very nice for me except that I was at the exit of the Flight Simulator and could not put up my entire booth. I had maybe six feet by 8 feet in actual space to use. My neat sign with moving gears I had hoped to debut had to stay home. It would be really nice if I could get my whole booth up. There was so little walking space that I could not build out or to either side.